The Magic Remains With Stevie Wonder
Stevie Wonder, India Arie, Sheila E.
December 5, 2014
The Oracle Arena
Oakland, CA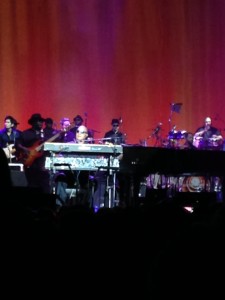 The Magic Remains
I feel that everyone has, within their plethora of concert-induced memories, one or two shows that stand incomparable to anything else. Maybe it was simply your first arena-rock show, or the first time you saw a musical icon in person who had previously felt like some weird and magical source of fiction. Or maybe it was just such an amazing experience that even thinking about it makes your eyes water. This was the case with seeing Stevie Wonder on Friday night. It was the sort of thing that I knew in my heart of hearts would be unlike anything I'd ever seen before, but I had no idea. Holy shit. No idea.
I had completely broke the bank getting tickets for Candice and I for her birthday, which was a mere four days after the concert. I knew there was scant chance of having the opportunity to ever see Stevie Wonder again and I suspected it would be worth every penny. I remember telling my sister Marnie about the upcoming show and after a tiny bout with economic logistics, Marnie decided that this was something she simply could not pass up. So it was set, we picked her up in Oakland at our other sister Rachel's house and were off, like wisps of a dream drifting toward what we hoped would match our expectations.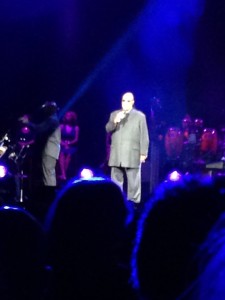 The show began with his enormous band of strings, horns and singers taking the stage. We watched in ominous anticipation until he finally stepped from the darkness, lead by none other than India Arie. He began by saying a few words of introduction and it was one of those moments I alluded to before: I couldn't believe I was actually looking at Stevie Wonder. There he was right there. Stevie Wonder, dude. With all the mannerisms and smiling head-sways that's characterized him throughout his stardom. He gave a very funny and heartwarming opening to the show, introduced and thanked his whole crew, then called his brother Calvin Hardaway to the stage, mentioning that Calvin had co-written the song Have A Talk With God, which they would be playing shortly.
Then the show began. I find it difficult to put into words what it was like, the power of the sound and the weight of the message. Mr. Wonder mentioned several times the sad truth that Candice has brought up a lot lately, that the battles they were fighting for racial equality in the 70's are still being fought (and often times lost) today. It feels that The Civil Rights Movement has become devoid within the last few years. I don't know if the fact that there's an African American in the White House has made all the bigoted dipshits feel threatened, forcing them to act out with as much blatant volume as they can muster, but it seems that we have recently taken about ten steps back from when those fights were first being waged. Stevie Wonder made numerous references to the recent outcomes of the cases involving Michael Brown and Eric Garner but he did it in a way that (at least momentarily) calmed my rage about such things. He focused on the love that human beings need to thrive. We need to give it and we need to receive it. He didn't have a single word of hatred toward anyone, a major point of his was that all we can do is lead by example and love everyone with hope that the rest of the world will one day become truly color-blind.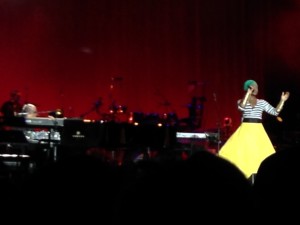 The singers and musicians knocked us on our asses as well, India Aria providing a sort of perfect accent to the whole show. The way she and Stevie create music together is something that can only truly be conceived of when seen first hand.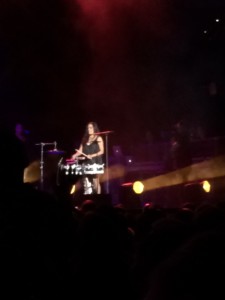 At one point Sheila E. came out and played drums alongside the band, not leaving before offering us an incredible drum solo. She made a few appearances throughout the night including during the show's epic finale.
After the intermission Stevie Wonder told us a story of when he first wrote the song Isn't She Lovely about his unborn daughter; who he then informed us was Aisha, one of the singers on stage. (Gasp!) He brought her forward and the two of them sang the song together. It was pretty much the most amazing thing I've ever seen. Candice's dad used to sing that song to her when she was a child and it was the song they danced to at Candice and my wedding a few weeks back. Needless to say, it was a very moving moment for the two of us.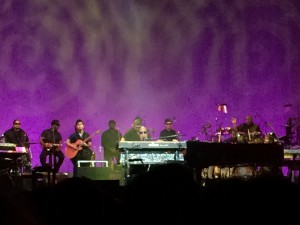 Crying? Are you kidding? I'm only human, my friend. Candice and I were like a couple of geysers during the entire set, which, including the intermission lasted close to four hours. I shed tears of sadness for the stagnant conflicts of our country, I shed tears of inspiration and overwhelming happiness at what I was witnessing on the stage. There are obviously a million and a half men and women throughout history who are amazing and talented musicians, but it is rare for me personally to look at someone doing…anything really, and be sure beyond any doubt that that person was put on this Earth for that reason period. After seeing Stevie Wonder play his heart and soul out for us that night, I can say with complete certainty that he was born to create music. His voice still bearing the power and grace that it did nearly forty years ago, it was clear that he has not lost a single note of that passion.
After playing the album in entirety, he and the band played an encore that lasted close to an hour, offering acts of hilarity alongside the music, including his alter ego DJ Chick Chick Boom. Yeah. By the end of the night I felt the whole audience was part of the show as he would have us singing along, having girls-and-boys "La La" duets and just overall playing to us rather than at us. By the end of the show there wasn't a single booty in their seat. It was grand.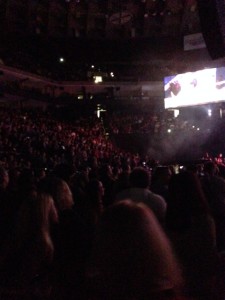 After giving us a sincere thank you and goodnight, the show was over and we all wandered out in a daze, everyone in the entire building smiling to one another like we had all just witnessed a miracle. I can't be more grateful to Stevie Wonder for playing for us that night. It was one of the most amazing things I have ever seen and it will forever be the barometer against which I judge concerts. I hereby apologize in advance to every band I will see from now on, whom are likely remain in the second-best slot. Don't blame me. Blame Stevie.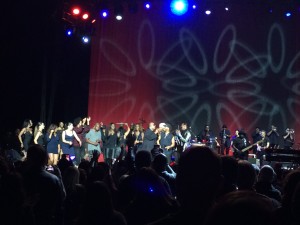 Want to stay in touch? Sign up for our mailing list, so that we can infrequently send you stuff.