That's Hardly What She Said, Another Year At Hardly Strictly Bluegrass (Part1)
Hardly Strictly Bluegrass (Part 1)
Jon Langford & Skull Orchard Acoustic/Freakons, Sallie Ford and the Sound Outside
October 5,2013
Golden Gate Park
San Francisco, Ca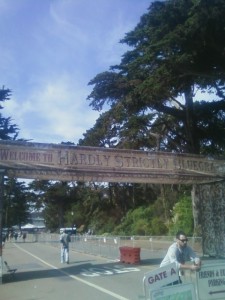 That's Hardly What She Said
Every year in the fall San Francisco puts on the Hardly Strictly Bluegrass Festival and oh how I've grown to love to be annoyed by it. The whole rigmarole promises an entire weekend of free chaotic admiration for a whole slew of musical acts, all on a sprawl of 6 stages in Golden Gate Park. And each year seems more packed than the year before, by music lovers, sure; but also by many people who may or may not give three shits about the music itself so much as the concentration of people off whom  one can easily bum money for weed and/or their pit bull. Either way, every year has music of many varieties that's amazing and at least a few of bands that I'm partially dying to see. This year I was particularly tickled about some of the bands that would be taking the stage on Sunday so I thought I'd save up my energy for that: an all-day excursion of beer-popping stage-hopping. Alas, I found myself in the Richmond District on Saturday, skating around more or less aimlessly and I decided to dip into the park for a spell to see what I could see.
It immediately seemed like much of the city had sentiments similar to my own in giving Saturday a rest. I was able to wander freely and even sit on some hills that were close enough to a stage to see its occupants. Which was more than I'd expected. I hadn't taken the time to consider the fact that it was only about noon and many of the day's festival goers were still in bed, bless their asses. I admired the memorial wall for Warren Hellman, the incredible billionaire who single-handedly conceptualized and funded Hardly Strictly Bluegrass every year since it began in 2001. Hellman sadly passed away in 2011 but stipulated funds in his estate to provide at least another fifteen years of the festival. If only more of the folks getting rich in this world could take a lesson from Mr. Hellman, instead of just dominating the once-rad neighborhoods of every city one by one with everything short of a battering ram. Sorry. Touchy subject.
So I strolled my way over to the Star Stage and sat myself down to listen to Jon Langford & Skull Orchard Acoustic, accompanied part way through their set by Freakons. These guys and gals were really great. They were more or less traditional bluegrass/folk music with an undertone of swashbuckling that was at least partly provided by their Welsh accents. Sorry if I'm mixing genres here, that was just the impression I got. A big and solid crew of musicians, they seemed to be having a real gas up there, with songs spanning several themes including the evils of the coal industry. Brought a tear to my eye they did.
It was as I watched this great act that I noticed a girl doing a prolonged handstand right behind a guy who was performing some very theatrical Frisbee-throwing techniques that it occurred to me that there was a large conglomeration of Burning Man people here. My theory was confirmed when I saw the first of several un-lit fire juggling bullshit things. Several people were clearly perfecting dance moves (or "swaying gyrations" may be a more accurate description) in probable anticipation of next year in the desert and I was once again reminded why I refuse to Burn that Man.
I got a call from my friend Nate and after the band's set was all through I made way to meet up with him at the Porch Stage on the other end of the festival. Over at said stage there was a band just beginning their set. They were called Sallie Ford and the Sound Outside and with their extraordinarily perfect use of swear words and reverb-soaked sound, I was drawn to them immediately. The Porch Stage is nice because it's the first stage you come to upon arrival through the main entrance and it's a perfect ease into the whole situation. A smaller stage with a more intimate listening area, it's a good spot to relax and actually watch some great music without all the distractions of the clusterfuckiness of some of the other stages. I was glad to see this band under such circumstances. They're a four piece of indie rockers from Portland, Oregon and Sallie Ford herself sings through their upbeat songs with the occasional oh-oh oh-oh bumb bah persuasion, seeming to use her vocals as more of an instrument than a conveyer of concepts. I moseyed my way down to the front of the stage where Nate sat with a lady friend on a blanket, armed with beers and sandwiches. Proper. I partook in the blanket and beer while we enjoyed the rest of the band's set. Side Note Alert: Sallie Ford and the Sound Outside are playing at Bottom of the Hill this coming Friday (10/11), so if you're in the city there are many things you could do that wouldn't be half as rad as seeing them. I don't even know you and I know you'll like them so put that in your hookah and…I said No Burning Man! Drat! Foiled again.
Anyways, the band finished their set and with the late-blooming party goers suddenly arriving in terrifying droves I thought it was high time I headed home and rested up for a full day tomorrow at this debaucherous shitshow. I bade farewell and skated on home to my dear Candice.
To Be Continued…
Want to stay in touch? Sign up for our mailing list, so that we can infrequently send you stuff.