If 14-Me Could Be Me Now – New Year's with Pins of Light, Toys that Kill and the Terry Malts
The Terry Malts, Toys that Kill and Pins of Light
Saturday, December 31, 2012
The Hemlock Tavern
San Francisco, CA
If 14-Me Could Be Me Now
This may be some weird bi-product of Candice and my late affinity for Hitchcock flicks but let me begin with the ending: New Year's Eve in San Francisco. The skies were dry and the pallets were wet. A collection of roustabouts had congregated at a watering hole that rested on the brink the city's slowly disintegrating poverty. The Hemlock. We were eager to see some bands, three in all, for one of whom my heart shone particularly. But wait, I must first rewind. Back to 1997…
Some punk rock enthusiasts had visited my sister and her best friend from Twin Falls, Idaho. These guys stayed at my house at one point and they skated so I was immediately picking up what they were laying down. We shared all kinds of beer and stories and music and skate videos in those days in which we conjoined, all of us making tapes of each other's teachings. One of said tapes became an immediate favorite of mine: Five Year Plan's album Toilet Kids Bread. I still have a skate video that me and my dipshit friends made that summer and my part has the album's closing song on it. I was enamored to learn that their lead singer, Todd Congelliere was a pro skater. Shit, they maybe all skated but in the word-of-mouth days before the internet, this was the extent of my knowledge. Alright, fast forward a couple (shitloads of) years and Mr. Congelliere and his fellow F.Y.P. associate Sean Cole have formed Toys That Kill, an band that's equally awesome in the vein of their predecess-ing tunes and (ready for this?) are playing at The fucking Hemlock on New Year's Eve!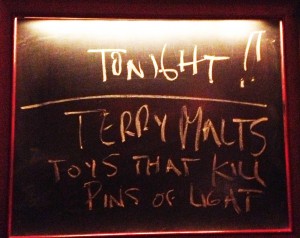 So there I was, all bushy-tailed to see this band, alongside Pins of Light who we saw when they opened for The Melvins a few weeks prior (check the story, rookie), and a band I was unfamiliar with called Terry Malts. We rolled in early, met up with some fellow enthusiasts and before long Pins of Light took the stage. I don't want to beat a dead rock-horse in case you've already read the story about The Melvins so I'll just rehearse the fact here that they left everyone stunned and wanting an encore. They tore that little place a new ass. Jake, one of their duo of string-shredders kept jumping up on this tiny table next to the stage and every time I was baffled that it didn't topple over. It made me nervous which is further proof that I'm a total pussy. I was stoked seeing them in such an intimate space as The Hemlock. The show room there is about as big as a rich kid's bedroom. Big for a bed, pinner for a rock show. Which I feel can help when there's nowhere to hide and all you can do is joust with the music. That kicks ass always.
After they were done that place was properly jubilant. It was like everyone was suddenly thinking 'So this is how it's gonna be tonight. Well al-fuckin-right!' Next came the band for which my anticipations loomed, Toys That Kill. I remember being a bit taken aback that they weren't the headliners, but as I said, I'd never heard the closing chaps so I figured, whoever they may be, they must probably hopefully kick some ass. Whatever, Toys That Kill filleted the gnar. They sounded just as I had hoped and imagined. Just so full of loud and energetic dirtbag rodeo licks. The crowd clearly agreed. At one point some apparently random dude jumped up on stage and started yelling along with them. I saw the guy who'd sold me a T-shirt earlier making his way to the stage and figured their roadie crew was about to bust some ass. However, as he got to the stage he just hopped on up and started joining in the vocal parade. The drunken idiocy was in full form and being beautifully soundtracked by some of the greats. Candice told me it smelled like farts but my nose doesn't work so all I could smell was the deteriorating moral fiber of our generation. It was the smell of victory. Seeing Toys That Kill was like patting my little 14 year old dumbass self on the head and saying "Enjoy this shit, kid. Don't say I never do nothing for ya…now go wash your fucking hair!" Both I and 14-me were full of toothy grins.
They stepped down and, well to be honest I can't say I recall a whole crapload else. It was New Year's Eve after all. Shit. I of course gave Candice a hearty smooch when the clock turned over. I also recall talking to some jaded-ass musician and his girlfriend in the smoking room. That guy seemed physically able to only speak words of condescending hatred toward anyone or anything. Particularly any band that ever existed. I inwardly imagined he either never quite made it, or that he used to be in a band with some dude who totally made it and so he immediately went out and bought a trench coat.
The night slurred on into nothingness and I'm sorry to say I don't recall so much as a single note of Terry Malts, the headliners. I only remember being drunkenly pissed that it wasn't Toys That Kill who closed the night. But on the bright side, at least they played when I was sober enough to have some kind of memory of their set. Sorry, Terry Malts. Maybe next year.
Want to stay in touch? Sign up for our mailing list, so that we can infrequently send you stuff.