Metallica, Cage the Elephant
February 6, 2016
AT&T Park
San Francisco, CA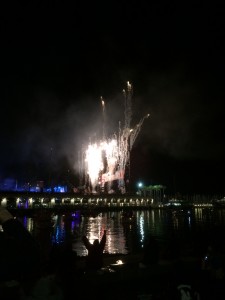 For Whom the Cove Tolls!
The Super Bowl's coming. Did you hear? Well, the actual Bowl or whathaveyou is down where techies tread but since San Francisco still claims ownership of…goddamnit I'm even boring myself! Suffice it to say, all that comes with the Super Bowl is here, now, everywhere. It's weird, and going downtown is like going to a petting zoo full of rabid jabberwockies. It seems to be a tradition that a bunch of concerts go off the night before that celebration of head injuries, and word had it that Metallica was playing at AT&T Park. When AC/DC played there I learned from my good friend Schmitty that one can enjoy concerts at said stadium amply from the outskirts. For free. So it was set: Metallica rested upon the night and I was teetering with glee as I'd never seen them before. Oh you saw them when they were touring And Justice For All? Good for you. I'll take what I can get thank you very much.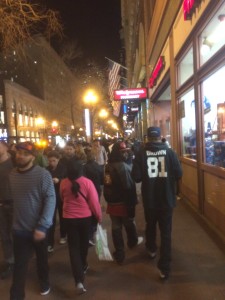 I skated down the hill toward town and felt like I was leaving a forgotten cemetery to bob along a current of neon enthusiasm. People yelled, people were happy, people were aggressive, and I wandered through it all, my eyes alit with wonderment.
The ballpark felt like the drain into which it all was sinking: among too many notables to mention, I saw a butt-rocker jamming his flying-V on the sidewalk, riot police with fucking machine guns, and a parade of bacon-wrapped hot dog vendors. To top it all off there was a –wait, really? Yes, a Metallica cover band, playing in front of the Public House. And they didn't even have any obvious gimmicks like being made up of dwarves or cross-dressers. They were just your typical garage Metallica anthemists. I didn't want my night to get too redundant so I just walked on by, headed for the other side of the Cove to meet up with the dudicals.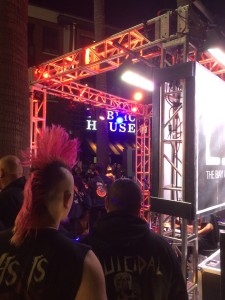 I saw Schmitty and we listened to the first band, Cage the Elephant, as they repeatedly cherished the notion that they were opening for Metallica. I found their enthusiasm endearing and thought back to my day as a little guitar-playing shithead who dreamed of such scenarios. They steeped the night in the magic of butt-rock. Not that they were butt-rocky by any stretch of the imagination -they were more artisan frat-boy rock, but still; they set the stage well and got crowd prepared for the darkness that was about to imprison them. Absolute horror.
As we casually waited for the Band of the Night, we were greeted by some other friends and there was soon a full-on beach blanket champagne jam. Tall cans and weed. It was all in the name of when Metallica still had long hair. Speaking of Metallica, they took the stage promptly at 8:30 to the musical stylings of Hugo Montenegro. Shit had officially gotten real. They launched into their set and I was quite pleased. I've seen recent footage of them playing live and it just seemed to be missing something, the spinal Metallicaness that's been disintegrating since the Black album (in my opinion). But tonight, the action ran deep and as they opened with some of my favorites from the early albums, I was tickle-stoked. At one point I decided to head down to the free viewing zone, over in Triples Alley, and see if I could gaffle a gander of the live action.
There was obviously a shitload of people down there with the same idea and it was hard to see much. Also, the acoustics of the bay made it sound worse right there than it did on the other side of McCovey. It felt like an arena rock show where you are surrounded by drunks and can't see shit. The last straw was when some dude would not stop yelling: "PLAY NOTHING ELSE MATTERRRRS!" I headed back to the crew.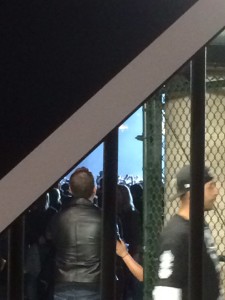 There were a bunch of boats out in the cove and we were stoked to see a small group of kayaks with a small sort of campfire floating amongst them. Jake, Fallis and I toyed with idea of it being a Viking funeral for a fan who was finally achieving his life goal –er, death goal- or having his body consumed to ash while floating outside of a Metallica concert.
"Yup," said Fallis. "He heard they were coming and just said 'I can finally do it.' Killed himself during sound check." We were stoned.
The band played on. James Hetfield kept making the crowd sing, which, as I'm all for audience participation, I feel there's a line to be drawn. It got to the point where I was wondering if his voice was just tired. "Let's hear ya sing it, San Francisco!" He would yell. To which I thought, 'isn't that what everyone in there paid your ass to do?'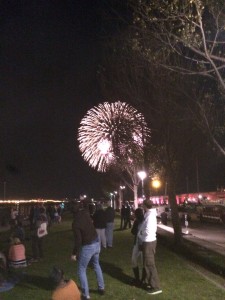 All in all it was fun time. The band sounded good, the people-watching was off the charts, and I can finally say that I kind saw Metallica. They ended their encore with a plume of pyrotechnics and, I don't know how the fuck they timed it, but just as they played their last notes, a show of fireworks began over the bay. My only explanation remains: "Leave It To Metallica". The bell tolled and we all marched on…to the bar.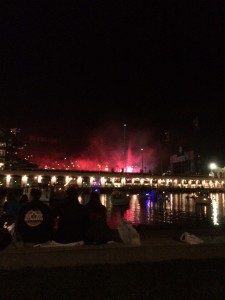 Want to stay in touch? Sign up for our mailing list, so that we can infrequently send you stuff.