Color Me Rad with McRad, Drunk Injuns, Free Beer and Motorhome
McRad, Drunk Injuns, Free Beer, Motorhome
August 2, 2014
Bottom of the Hill
San Francisco, CA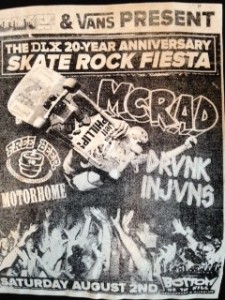 Color Me Rad
With Candice out of town, my thumbs were beginning to grow tired of twiddling. The wolves were trotting rabid and I wanted to rock out. By the sheerness of circumstance, there was a show that was tragically scheduled to partake on the exact day that Candice would be leaving our fair city. Fair yet obviously cruel at times. I say cruel because the show at hand billed a band that our nymph in question had discovered long ago through her skater friends as a teenager: McRad, the punk rock band who has sprinkled skateboarding's history with their glorious sounds of radical.
Humans, the pack animals that we are, long for solidarity. An easy target for such solidarity is the music we listen to; which is oft-times rammed down our throat by whatever our hometown feels we should be enthusiastically raising our fists or eyebrows to, depending mostly on our class and skin color. Thereby, in most towns where African Americans are the overwhelming minority, black youth are traditionally required to listen to whatever rap artist is hot shit during that particular milli-moment. So a young black girl, such as our dear Candice, could feel like her Cool is a bit askew if she happens to like what not only the white kids are into, but the rebellious white kids at that. Like fucking rocking-ass metal and punk rock. That's why Candice, and people all over this loony world of ours, find a sort of refreshing kinship with other folks like them who are tuned into the same station, both figuratively and literally. And that was why she was absolutely disheveled to learn that McRad, the 80's skate/punk rock band fronted by Chuck Treece (a black man raised in Philadelphia), was coming to town. They would sadly be like ships passing in the night. But I tried to offer a small consolation by going myself. It was the least I could do.
The other bands on the bill were tickling the shit out of my fancy as well. Motorhome was playing, fronted by Matt D., a staple at DLXSF who's been the game-face of their shop for as long as I can remember. There was also Free Beer, which included Tommy Guerrero, the legendary professional skateboarder from the incarnation of street skating, and his brother Tony. Drunk Injuns was going to join in the festivities as well, a masked and mysterious punk rock band from San Jose who also partook in the 7-ply dreamy nightmare. Headlining was McRad. Each of the bands came to fruition during the odd era of the 1980's, all reuniting to celebrate the 20-year anniversary of DLX, which has headed the charge of urethane chariots since the conglomeration's spawn in the Year of Orwell.
As I mentioned, I was alone in my cockpit, but the nature of the show promised to provide ample comrades from this big goofy (or regular) family tree we call skateboarding. And it did. Everyone was there and all were full of beers and merriment. Though I mostly just flowered the walls, as I can be quite awkward and uncomfortable in the realm of small talk. I frantically clambered and strained within every time a band would finish and I was left swimming, grasping at things to say that were worthy of screaming loud enough to be heard over the intermission music. So it shall be.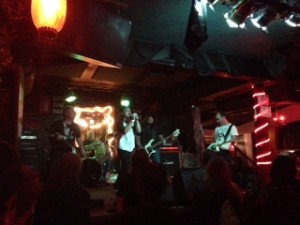 My first social savior was Motorhome, Matt D.'s band who I'd really been looking forward to seeing. I don't know Matt extremely well as we pretty much only kick it long enough for me to buy a pair of shoes or drop off issues of Lowcard at the shop, but he's always struck me as a very professional and non-idiotic dude. Every time I go in the shop he's hard at work making skateboarding more accessible for all who cross his path, which rarely leaves time for idle chit chat.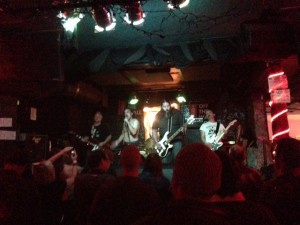 Needless to say I couldn't really picture him singing his brains out to a punk rock band. But he did. And it was fucking amazing. We were all floored by Motorhome, Matt D. throwing T-shirts out to the crowd, doing push-ups, tearing his own shirt from his frame. It was great. Their guitarists had us all floored as they came through with some solos that made me feel sad for whoever had to follow them. Which was why I initially felt bad for Free Beer.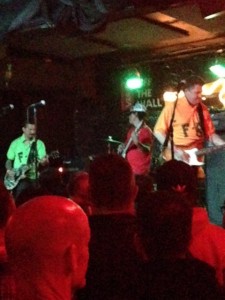 But not for long! Free Beer took the torch and shoved it up everyone's ass. They opened with a Devo cover, which had me vaguely questioning their singer's vocal capabilities, but he proved me wrong time and again through the duration of their set. The whole band brought wonderment to the stage and before long the crowd was eating it up, hook, line and king-pin. People got really fucking rowdy, dude. It was wonderful and lively elbow-throwing excitement. I typically enjoy being a conscientious observer of the mosh pit, mostly cause I'm a pussy and don't want to break my glasses, but I also really enjoy watching all the stories that unfold amid the glare of ruckus. The miniature battles that rage, threatening to morph the fun-fight into a harm-fight. One guy up front was getting pretty over the rowdiness of another fella and kept squaring off like he was going to throw some blows, but Dude B would just obliviously jolly off to bloody additional noses. It was funny.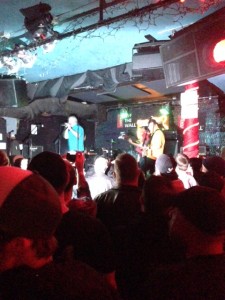 At one point two gents got up on stage to assist with the vocals and one of them played a pretty harsh Guitar of the Air. Mean solos. Free Beer rules and their name alone on any flier promises a sufficient turnout. Good job, dudes.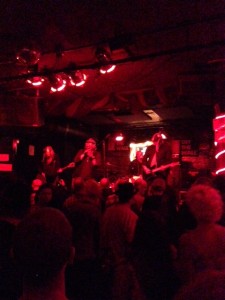 By now things were getting loose. The injections of gnar had been administered and folks had been there long enough to get properly sauced up (not to mention the involvement of some other substances that I heard mentioned once or twice that are rumored to really get parties moving). It was the perfect stew in which Drunk Injuns promised to boil. The four men climbed atop the stage wearing masks that felt like if the cast of Mad Max were doing an interpretive dance about Witch Doctors. They started their set and the floor immediately Big Banged, sending shrapnel of clamorous moves bounding along the entire span.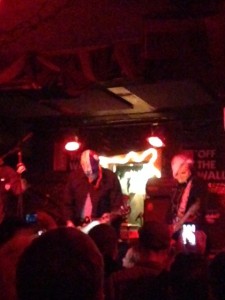 They were nothing like what I would have expected. Some of their songs had a slower tempo as their singer crooned out his lyrics using a very rare thing when it comes to punk rock: an actually good voice. He reminded me of a howling Creole singer, like Screamin' Jay Hawkins when he's between screams. They even did one song that was meant to prompt a slow dance. The singer told us all to grab our special someone and melt into the music. As I mentioned before, my special someone was elsewhere, so my only dance companion were my lonely tears as they fell to my bosom. The Point was seriously Breaking during their set and I feared for my well-being more than a few times, but it all made for a really amazing show.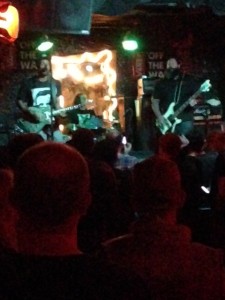 Finally came the show everyone was waiting for. Or at least everyone who didn't leave early to go puke up their bed and/or the bushes. McRad took the stage. Chuck Treece had this amazing demeanor that I took to immediately. After seeing the complete and total mayhem of the opening bands, it was like he was there to provide the voice of reason before plunging into song after song of fast-paced rock and roll. I heard through the grapevine that their bass player had been MIA and so the stringed veteran of Motorhome stepped forth to help provide some rhythm, and he won that bass by a nose- I mean race. Race? What the hell am I talking about? Anyhoo, they played an amazing set. Mr. Treece was Hail Mary-ing wisdom at us between songs too, to the point where whenever a song would end I would get excited that it was over so he could talk some more. Although I would also get stoked when one of their badass songs would begin. It got to the point where I couldn't even remember what it was like not to be stoked. Which is a rare thing in this crazy day and age. I should make an ap for that. At one point Tommy Guerrero took over on bass; he took the time to mention the incredible influence Chuck Treece and his music has had on skateboarding since it's infancy, back before some members of the crowd were even a nugget. It was a really great show and I can't stress how happy I am that I went. There, I said it. Sorry, Candice.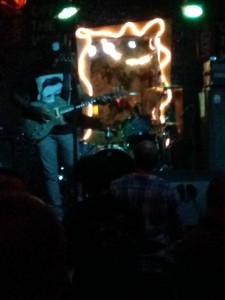 So, the show ended and we all said our goodbyes and went our respectable ways. Me to my sad and lonely house where I got stoned and watched America's Funniest Home Videos cause I'm a gnarly hessian like that.
The End.
Want to stay in touch? Sign up for our mailing list, so that we can infrequently send you stuff.