Burger Boogaloo 2015 (Episode 2)
Nikki Corvette, Guantanamo Baywatch, Jonathan Richman, John Waters
July 5, 2015
Mosswood Park
Oakland, CA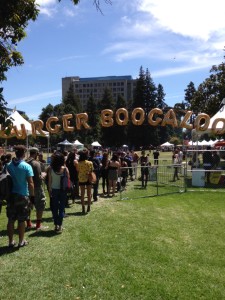 Burger Boogaloo 2015 (Episode 2)
By Sean Sanford
            The morning light squirmed in through our bedroom blinds like call waiting: mysterious and irritating. Caller ID being the non-palatable sounds of the outside world awakening despite our resistance. It had been a long night. After spending our day enjoying the musical libations of Burger Boogaloo in Oakland, we had come home to see (metal band extraordinaire) Asada Messiah at Bender's, the celebrations for 4th of July still illuminating the city's fog well into the wee-est of hours.
Now it was Sunday and there was still a whole day of Burger Boogaloo to wade in. It sounded hard, my friends. Getting up and packing my bones across the bridge again, spending another day in Beer Jail smothered by cohorts. And believe me, the thought of opting out crossed my mind more than a few times. But, I decided to collect my bearings and make it happen. Candice decided to wish me the best of luck and donate her ticket to my friend Robb. Another segment of our previous libations, our good friend Julie, had similar sentiments and was willing to donate her ticket to Robb's girlfriend Katherine. So a plan of action had been mapped out and it was high time for me to get to trotting across the bay.
I got there early and it was refreshingly mellow. Even Beer Jail was sparse. I just floated around, got some food, said hello to my friend Erin at her booth, McDermott Guitars, where she was slinging axes. The sun felt nice and I was happy I'd made the trek. Shortly thereafter Robb and Katherine met up and we made our way to Flesh Land to watch Nikki Corvette.
The crowd was forgiving at that hour and we were able to get pretty close to the stage. I liked the looks of the band. They had spun their aura with denim upon leather upon grease of the pompadour variety. The glint of their demeanor required them to wear shades and the power of their Cool had us all bobbing our heads and dancing like it was some sort of involuntary reaction. They just had that style that made you want to groove along. Love songs and twangy guitar leads and a…wait, what? A saxaphone player? Fuck! I didn't see him. I was just starting to like this band too. Oh wait, he's chill. No, it actually sounds good. What do you know? Their saxman doubled as a keyboard tickler so they didn't have any of that Guy From The Amusement Park Scene In The Lost Boys thing going on. Thank Christ.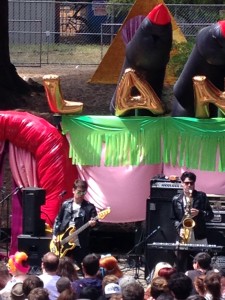 I liked Nikki's stage presence too, she talked to us, respected our presence. I felt like she was playing for us rather than at us. It was like a cold beer on a sunny day.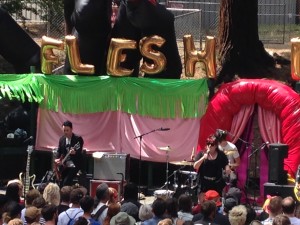 Wait, did you say beer? No, I did. Let's get one! So we checked in to Beer Jail after Nikki Corvette was finished and enjoyed some spirits. I didn't want a repeat of yesterday though, so I kept it to a minimum. Robb's girl Katherine was vocally tickled to see an upcoming band, Guantanamo Baywatch. They're from Portland, Katherine's home zone and she's known them since they were first starting out a few years ago. It made her visibly happy to see them down in Oakland playing at such a great event. And so, with her homeskillets ready to crack some eggs, we escaped Beer Jail and barged back on down to the Flesh Land stage.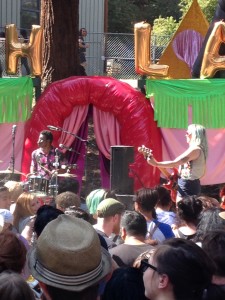 I was a bit surprised when they began playing, as they held a surprisingly trace amount of aggression despite their namesake. They were clearly more in tune with the Baywatch part of the moniker as I felt like I was catching numerous waves as their set progressed. They played some really great surfy jams and the crowd took on the collective demeanor of Johnny Utah when he's about to raid that drug house where Anthony Keidis is hanging tough: stony, spacey; but fucking ready!
Although, the stationary floor was anything but ready when a guy (I think it was a member of Nikki Covette's band) gave in to his urge to take flight and jumped from the stage. He obviously felt the reverb vibe and commenced to hang ten…on the crowd. Only his enthusiasm was met with sheer surprise and from my vantage point he appeared to only surf the cement floor, vanishing beneath the frothy break of concert-goers. But it wasn't for naught, as this was clearly just what the crowd needed to start moving their feet fire up a mosh pit. Their singer's hair was like a living thing and, coupled with his (Groovie Ghoulies-ish) vocals, he was a bit mesmerizing. Their drummer also made incredible facial expressions. In other words, the music lifted them aloft, but their showmanship made them soar.
Oh yeah and John Waters was there between each band, delivering all these hilarious routines. After Guantanamo Baywatch he got up to deliver his joke but the mic went out in the middle of it. Unawares he continued his animated repertoire while everyone listened really hard between calls of "The mic's not working!" Finally the sound system awakened just in time for us to hear the isolated punchline. "-ut that's the last we ever saw of him. Thank you." And he left the stage. We all cheered. When you can deliver lines like John Waters, everything you say is brilliant, even when bobbing alone on a sea of white noise.
Well the three of us were getting hungry so we ventured out to get some food. We wanted to be sure and get back to the stage by the time Jonathan Richman came on though as we are all fans. As we made for to the food zone we could see that the floodgates were very slowly opening; there was line as far as the eye could see making their way inside the gate. I had flashbacks of yesterday and became nervous that we wouldn't be able to enjoy any more bands with our hitherto sincerity. However, we ate good food, saw a few friends and by the time we heard Mr. Richman taking the stage, it was wall-to-wall ne'er-do-wells.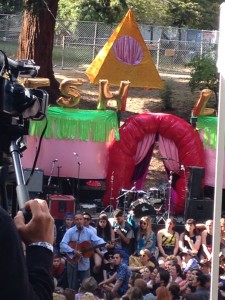 We weaseled around the top of the amphitheatre but all we could see were brief glimpses of the man and his guitar between quickly collapsing areas of personal space. His music was really quiet too and that coupled with my weary bones, I decided to call it a day. I bade farewell to my friends and accomplices and made my way back to the city. Another wonderful weekend full of wonderful music. Thanks Burger Records. I love you Boogalots.
Want to stay in touch? Sign up for our mailing list, so that we can infrequently send you stuff.