A Pairing That Means Caring with Chuck Mosley & Friends, Coffin Boy Crow, Faith No More
Chuck Mosley & Friends, Faith No More, Coffin Boy Crow
August 18, 2016
The Great American Music Hall
San Francisco, CA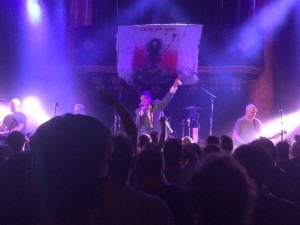 A Pairing That Means Caring
By Sean Sanford
A couple weeks ago a dear friend, who works at The Great American Music Hall asked if Candice and I had gotten tickets to see Chuck Mosley. Being the caliber of Faith No More fans that we both are, twas a Very-Little Brainer and I told him so. He said "Good. It's gonna rule," (I paraphrase). "Everyone's gonna be there," I decided to assume that he meant everyone and was nudged to tickledom. I know you know this, but allow me to explain to any commoners in the audience…
Chuck Mosley was one of Faith No More's first committed lead singers, joining the band in 1985. He recorded two albums with them before making way for Mike Patton, who would co-pen the band's future hymns of infamy. The first of the Mosley-era albums (and the band's first studio release) was We Care A Lot, which didn't see much light after it's original debut. The album was reissued this year and Mr. Mosley drove out from his new home in Cleveland, Ohio to play a couple shows with his old band mates.
But it was originally kept under wraps that the whole band would be there. Candice and I just got tickets cause, well, it'd be rad to see him either way, and we clung to a glimmering hope of reunion. About a week before the show they announced that the rest of the crew would in fact be there. So you better believe that we were ready to rock come Thursday night!
Joined by our friends Tucker and Brenna, we made way for The Great American early to ensure dibs on some geriatric seats, as after the aforementioned announcement the show promptly sold out. We scored a good spot in the balcony and commenced our nervous excitement. So many questions: who would be in the opening band? Would Mike Patton make a special appearance? Okay, two questions. But two BIG questions. And the first was promptly answered:
The opener was a fellow named Coffin Boy Crow. To call his "set" interesting would do it a disservice. It was pretty fucking weird, but as I went down to the floor and watched, you couldn't get the grin off my face if you tried. (I was stoned to the bone too, so that probably helped.)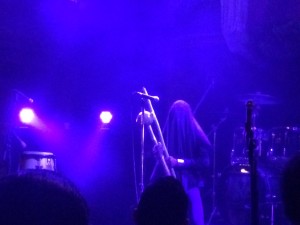 He came out to pre-recorded music wearing a black sheet with a single hole cut out for one eye and his mouth. He started singing along to the music, spouting a dialect that I suspect was self-invented. (Hell, at least he's fluent.) He followed by singing a couple covers, including "The Needle and the Damage Done" by Neil Young. He'd wallop around the stage and grab his various agents of percussion/stage props, before stepping back up to the mic.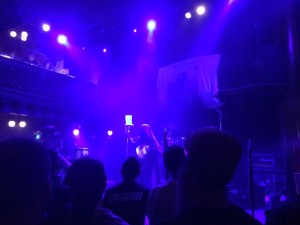 His set was concluded when he was chased off the stage by a post-apocalyptic caveman person who was, rapping…kinda…I guess.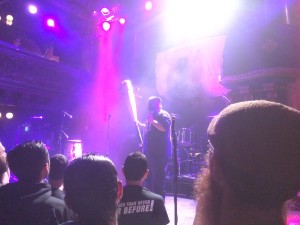 That guy's stint was a quick one and he got us all pumped up for Faith No More and the proceeding merriments.
After lights came up and we discussed the blurred line between art, music and plain clown-shows, before Chuck took the stage with a bongo-drumming conspirator. Yeah, I said bongo-drumming, but guess what, it actually didn't suck.
I loved it as Mr. Mosley played his solo acoustic set, making the occasional fumble on the guitar, every so often stopping mid song to say that he messed up or forgot something. He was vocally nervous and it was complete disarray and I loved it. He kept playing and we could see members of Faith No More standing on the sidelines, apparently waiting to get on the stage. Candice and I wondered if Mosley was stealing as much time on the stage as he could, while he had his audience. I thought that was great, if in fact that was the case.
At one point Roddy Bottum came up and started playing keyboard to one of Chuck's songs. We all thought that was the beginning of the end, but it turned out to seem more like a renegade hint from Chuck's former bandmate. After the song he went back to the side of the stage. Chuck kept alluding to the fact that he was overplaying his welcome, but persevered, one song after another. "Okay one more song. Then another. Okay three more songs," and so on. Finally, the boiling point was reached and the rest of Faith No More stepped up.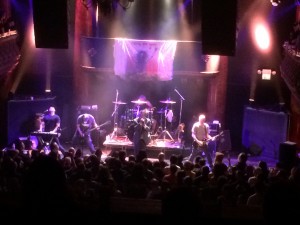 It's not easy to describe the mind-boggle that accompanies seeing Faith No More play live. It's clear that these guys have been playing music together for so long that it's like one big machine rather than a sum of five parts. But even hearing them play some of the first songs they ever wrote together…it made me picture them as a crew of 20-year-old dudes sitting around writing these songs back in the 80s. I thought of the house parties or whatever they may have played them at and how it must have blown the drunken minds, escalating everything until it was like a Mad Max movie written by John Hughes.
They played every song from that first album and it was amazing. They saved "We Care A Lot" for the end of the set and it was like throwing gas on a bon fire. I felt like I was warming my hands to the light of everyone's toothy grin.
There was something inspiring seeing them play with the singer from their roots. Mr. Mosley even made a comment about how incredible the band was. I feel a slightly corny yet very real pride in the fact that I've now seen Faith No More under both the Patton and the Mosley umbrellas, each with their own breathtaking rewards.
And speaking of Mike Patton, I must admit that going in we thought he might make a surprise appearance, this being his hometown and all. But as the lights came up after their encore, it seemed appropriate in a way that he wasn't. This was Chuck Mosley's time. He drove across the fucking country to play two shows with Faith No More, and as much as I'm in Manlove with Mike Patton, I feel it would have diffused from what the night had going for it, a Faith No More that is in fact no more, reconvening to give us a glimpse of a miracle. Does that sound dramatic? Well, did I mention how stoned I was?
The End
Want to stay in touch? Sign up for our mailing list, so that we can infrequently send you stuff.