All That Pins Business with Big Business, Pins of Light and Worship
Big Business, Pins of Light, Worship
July 3, 2015
Bottom of the Hill
San Francisco, CA
All That Pins Business
By Sean Sanford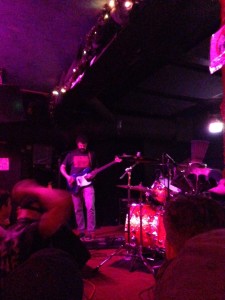 Candice and I hold Pins of Light very close to our hearts. The band that is. We were both fans before we met and they were one of many bands to cement our courtship. "You like Pins of Light? Me too!" Sparkle sparkle. Magic and so on. In fact, one of our first dates was seeing Pins of Light open for Big Business, so when we saw that these two were playing at Bottom of the Hill, we got a little bit fluttery about it. Although we've seen Pins of Light open for Big Business more than a couple times, this would be the first time they played together since our wedding. Did I mention that Pins of Light played at our wedding? We got to crowd surf at our own reception for fuck sake, and Pins of Light made that dream a reality.
So we made a night of it. We went to Velvet Cantina for dinner and front-loaded with a couple of their margaritas. Then, food coma notwithstanding, we made our way to Bottom of the Hill and got ready to…well not crowd-surf as the venue strictly prohibits it (I guess all rock shows can't be as gnarly as our wedding. Pushaw). We ended up getting there unfashionably early as we're wont to do and got to hang out with Pins of Light on the back patio before the first band played. They were called Worship, a strong name for a presumably strong band.
Worship took the stage and we could hear them from outside. It made us wanna get up in there. They packed some magnanimous power in their short set. Some amazing guitar chicanery and this really great sort of non sequitur songwriting style. I found myself inwardly calling it Math Metal. Is that a genre? Probably.
By the time Worship was done the place was beginning to fill up. We saw a lot of the usual suspects, many of whom we don't see other than at all the great rocking-ass shows in the city, but consider all to be dear friends nonetheless. Pins of Light took the stage and the place kinda exploded.
People were feeing it and for good reason. They just got done playing three shows with Big Business down in So Cal as well as recording their upcoming album. This frequency of playing together showed in their set. They were airtight and all the new songs they played quickly became new favorites.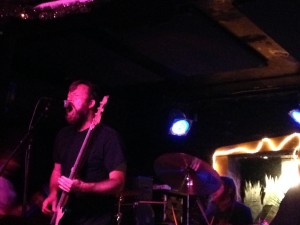 They would play a song that Candice and I remembered them playing at the wedding and we would immediately look dreamily at one another, a tender bubble bounding amidst chaos. Yeah people were getting rowdy. Which is great and to be expected, but one dude was built like Donkey Kong and he certainly enjoyed throwing himself around like a battering ram. It got nerve-racking, but he was apologetic every time he nearly broke one of my bones, so (nearly) all was forgiven.
Last but the opposite of least was Big Business. Tonight they played in their OG style with no guitar, just Jared Warren on bass and vocals and Coady Willis on drums. They held just as much weight as ever and We The People couldn't get enough.
They are big proponents of only casual harm being administered in the mosh pit and Jared noticed an altercation taking place in front of the stage. He quickly encouraged them, as well as the entire crowd, to be forgiving to one another in this high-energy atmosphere. He vocally thought the two up front should just hug and be friends. And guess what? They did. Thereafter the rocking commenced and I continued to be wary of my self-preservation a la Donkey Kong.
All in all it was a radical show, as can be expected from bands such as these. I look longingly forward to many more years of getting emo as hell whenever Pins of Light play with Big Business. Despite the afforded light being only as large as pins, the future looks bright.
Want to stay in touch? Sign up for our mailing list, so that we can infrequently send you stuff.